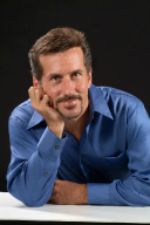 JERRY OPDENAKER, MFA comes from Philadelphia Pa. and is a graduate from the University of the Arts. During his 22-year dancing career, he worked as a principal company member for ballet companies such as Pennsylvania Ballet, Kansas City Ballet and Ballet Florida. During the years spent in these companies, he worked with some of the world's greatest choreographers working in the field of dance. At Ballet Florida he was instrumental in the development, creativity and educational components of STEP Ahead, Ballet Florida's choreographic workshop. Serving as the Director, he propelled the program into the eyes of the National Endowment for the Arts, which awarded the Access to Artistic Excellence Grant twice and was declared a "Jewel of the Palm Beaches" in 2004. That workshop afforded him the opportunity to express and discover his true passion, choreography.

His awarding winning "Coeur de Basque" began its life there. Since then he had been commissioned for new works such as, "Idyllic Realm" and "Bliss" for Ballet Florida and "From a Distant Wind" and "Bailame" for Ballet Gamonet. Jerry had the incredible privilege to participate in the Ballet builders 2003, New York City Ballet's 2005 Choreographic Institute and the National Choreographic Initiative 2007, in California. He has also choreographed for the Milwaukee Ballet, McKnight Foundation in Minnesota, Seanik Arts in Miami, Infinite Movement Ever Evolving in California, and the Florida Grand Opera's production of Lakme. He is very proud to be the Discipline Coordinator of Dance for the National Foundation for the Advancement of the Arts, YoungArts program. He has also developed a new company in Palm Beach County called O DANCE, which had its inaugural first performance at the Duncan Theatre in February 2010.

With his dedication to dance and his long-term to commitment to education on all levels -- from dancer to audience -- in 2013, Mr. Opdenaker graduated from Jacksonville University with his MFA in Choreography!